Massey, K.
Subscribe to posts
Consider the ending. Did you expect it or were you surprised? Was it forced? Was it neatly
wrapped up—too neatly? Or was it unresolved, ending on an ambiguous note?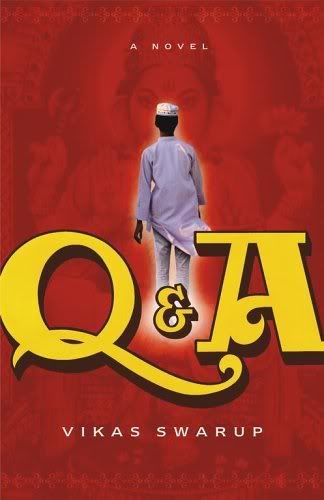 The ending to Q&A was actually quite surprising. Everything ended up nice and wrapped up, maybe a little too perfectly. But I guess that everything that hes has suffered through and dealt with rewarded him in the end. The pain of his childhood led him to become an even stronger adult who can get through anything. Each chapter throughout this book shows how he became stronger and stronger until he could finally deal with all his problems, though not alone. He got the money, the love of his life, a long lost friend, and Salim in the movie industry. I was sort of surprised because I thought there would be more plot after he told all those stories but it still ended up being a good book. And him tossing the coin into the ocean at the end represents how he doesn't need luck anymore because he's strong enough and with people he cares to deal with problems. Though he doesn't seem like he'll have much anytime soon.
10. Why does Ram want to have "manageable dreams"? What does he mean by this? And does this conflict with him appearing on a game show to win one billion rupees?
Ram wants to have manageable dreams because he does not want to be disappointed in the end if he doesn't end up getting what he wants. Hes already had multiple dreams being crushed, most right after he obtained something that made him happy. He wants to have something obtainable, something he can actually accomplish. He was being kind of sarcastic when he said getting 4 lahk rupees to pay for a prostitutes marriage from her pimp brother. But then again not really because he was really motivated to obtain that much money, which he did. But it ended up going down hill in the end. Because he has already had tons of let downs and deaths and horrible experiences in the past he just wants something he can be proud and satisfied with in the end. And because of all of the past experiences he's had in his life it pretty much lead him to appearing on the game show and winning one billion rupees. But the fact that he has been able to continue living and accomplishing goals after more and more tragic traumatizing events have happened shows that he is a really emotionally strong person with a good view on life.
By reading this book, what did you discover that could help you outside of school?
By reading Q&A I discovered that perseverance is really important. Just simply TRYING will indeed help out your chances a lot and make you a stronger person. By doing your best and keep trying even if you fail you can accomplish a lot more than you thought you could. Theres a lot of examples in Q&A in this. Ram has been through a lot as a kid and keeps pushing to be better and have a better life. He's ran away, been on trains, been tortured, abused, starved, been a slave, everything. And hes still a good person in the end. He reminds me that if you just try you can succeed.
The book "They Poured Fire on us From the Sky" made me feel a lot of mixed emotions.
From happy to sad to shocked and suspenseful. Whenever they described how it was like to be i n these harsh enviroments and experiance intense hunger and thirst I felt it too, and I also f elt the relief they felt when they finally found a river after traveling hundreds of miles or ate a delicious meal. I felt a lot of sadness wh en they boys were talking about how all the death and disease came into their once happy villages and tribes, and how gruesome and merciless the government and soldiers are to kids and women and innocent people. It's really interesting despite all the depressing themes.
    

Hi my name is Kade Massey and I was born on December 26th, 1993. I currently go to Kearny Senior High DMD, Class of 2012!!!! I like a lot of things, like being with friends, going to the mall, hanging out, trying new things, music, food, Serra Mesa, and others. I hate being inside doing nothing for long periods of times, I'd rather be with people. I dislike haters, ignorance, wannabes, fakes, rudeness, stuck up people, liars, and hypocrites. 
    

I don't know what I want to do with my life after high-school, I'm just trying to have fun right now. Some people mistake that for laziness I guess. But I'm not really lazy, just easily sidetracked. I want to go into the computer or culinary field for a job, though. I want something I can enjoy doing while still making a living. I love myspace, just because when Im away from my friends I'm not completely isolated from them. Though it may sound cheesy I couldn't live without them.
I'm shy at first, well it really depends, but once you get to know me I can be the nicest person ever. I'm ran

dom, self-conscious, kind, and helping.
And right now, I'm the happiest i've been for a while. (: